Founder of Newfields, Glyn oversees the commercial, sport and government/public sector work at the firm and advises on all key immigration routes and compliance duties.
He is described as "a very safe pair of hands and very easy to work with" (Chambers and Partners, 2023) and, as a Next Generation Partner, is "'terrific', particularly in the sports arena" (Legal 500, 2023).
Prior to establishing Newfields, Glyn formed and grew immigration teams at two leading regional law firms before managing a Russell Group university's immigration service to support over 7,000 international students and staff. He is a Co-Convenor for ILPA's South West working group and regularly delivers training for ILPA and other associations in the sport, professional and legal sectors.
Described in an earlier national legal directory as "among the most prominent sport immigration practitioners in the country", Glyn was shortlisted for Entrepreneur of the Year (Business Leaders 2022) and won 'Business Year of the Year' (Business Leaders 2022). The firm has been shortlisted twice nationally in the Law Society Excellence Awards and, in the Welsh Legal Awards, Newfields has won 'Niche Law Firm of the Year' twice in the past two consecutive years. It is shortlisted as Advisory Firm of the Year in the Business Leader Awards 2023.
Outside work, Glyn enjoys time with his family, hiking, travelling, and watching rugby.
+44 (0) 2921 690 049
+44 (0) 7792 402 489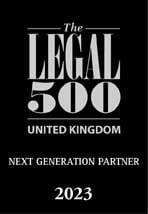 James Clarke
CEO, Hull FC
Glyn, Chloe and the team at Newfields have been an invaluable extension of our organisation. They provide reliable and responsive guidance and support for all our immigration requirements, with a detailed understanding and knowledge of the sector, in particular sports governance. We have worked with Newfields for many years and would have no hesitancy in recommending them.
Rugby Football Union
Glyn has been instrumental in advising the England Rugby Football Union as well as many clubs on a wide range of immigration matters, and is always on hand to steer us in the right direction. He and his colleagues always respond promptly, efficiently and often with very little notice, which is essential in the fast moving environment within which we work.
Gareth Anscombe
Welsh National Rugby Union player
With the help of Glyn, our visa applications that at first were a challenging and daunting prospect, were made straightforward and were done in a very efficient manner. I would definitely use Glyn and his team's services again.
Jamie Roberts
International and professional rugby player
Perhaps one of the most stressful things about moving abroad is all the admin around the visa application procedure. I was very fortunate that before and during my time in South Africa I had Glyn on hand to help with my application. He was extremely helpful and very professional, which certainly helped alleviate quite a lot of my stress! I would definitely recommend Glyn to anyone looking for assistance with their Visa application Abroad.
Bryan Habana
Rugby Union player
The efficiency, professionalism and swiftness with which Glyn handled the situation I presented him with (at very short notice) was absolutely outstanding. I will definitely be using his services in future.