We pride ourselves on our award-winning service that focuses on solutions to help you belong.
Our unique expertise that covers the entire scope of immigration means we are able to offer sector-specific advice and a wide range of cost-sensible support complemented by tailored resources, delivered by our dedicated teams.
Our story
Our 'next generation'* Managing Partner, Glyn Lloyd, established Newfields in 2017, with a clear mission to deliver a competitive and responsive immigration service that focused on the key needs of specific business sectors in the UK
Unlike most other law firms which charge clients based on the amount of time they spend on a matter, our lawyers work on a fixed fee basis. This means we have the freedom to collaborate and work on the best solution for your immigration matter and objectives, without having to worry about charging additional sums.
*(As ranked in the Legal 500 2023 guide.)
Excellence in immigration
Newfields has grown organically to support global brands, governments, public sector bodies, high-profile clubs and athletes, and private individuals.
We are recognised in the Legal 500 2023 and Chambers UK 2023 directories as a Tier 1 / Band 1 law firm nationally, based on our 'new wave' approach to running a law firm and collaborating with others, our use of technology and our collaborative approach. Our firm is ranked highly as a leading business immigration firm – the only specialist business and sports immigration law firm in Wales.
We are proud of these accolades but nothing makes us prouder than the tenacity, achievements and successful relationships that empower our team, and those of the organisations that we work with.
Shortly after formally opening our Bristol office, Newfields won 'Business of the Year 1-10 employees' (which we were at the time of applying) in the Business Leader Awards 2022, and our Founder Glyn Lloyd was shortlisted for Entrepreneur of the Year 2022. Newfields has recently been shortlisted for the Business Leader Awards 2023, in the 'Advisory Firm of the Year' category.
Our peers in the legal sector have also recognised our work, our culture and our ambitions. Newfields has competed against established, specialist legal brands to win Niche Law Firm of the Year at the prestigious, peer reviewed Wales Legal Awards, in both 2020 and 2022. 

Business Leader Awards 2022 - Winner - Business of the Year

Wales Legal Awards 2022 - Winner - Niche Law Firm of the Year

Wales Legal Awards 2020 - Winner - Niche Law Firm of the Year
Our Sector Expertise
Our exceptional immigration lawyers sit within specialist sector teams, ensuring the unique needs of each industry and public body are met in a proactive, personalised and cost-sensible way.
Creating a sense of belonging
It's our mission to create a sense of belonging for our clients and everyone we work with. We recognise that the immigration process can be overwhelming for clients. Listening to and responding to their concerns, we provide clients with a space where they can focus on starting a new chapter. By navigating the most suitable, time-efficient and cost-effective path to immigration, we assure clients that they will soon feel at home. Regardless of our clients' identities, origins or future destinations, we believe that everyone deserves to feel a sense of belonging and outstanding service.
Belong with purpose
Our focus on belonging is just as important to our people as it is to our clients. We have created a supportive and inclusive work culture, enabling individuals to bring their authentic selves to work. Investing in opportunity and progression, we encourage our people to explore new sectors and lead on exciting clients. With a shared entrepreneurial spirit, we ensure each member of our team feels a sense of belonging, as we help them to build their careers in immigration law.
When founding Newfields, it was deliberately designed to move away from the working practices at traditional law firms, that focus solely on billable hours. Instead, we prioritise the development of our skills and the delivery of our services, by encouraging employees to take that extra time to collaborate on challenging cases. Without this pressure, we have created a supportive work environment where the welfare of our team is protected.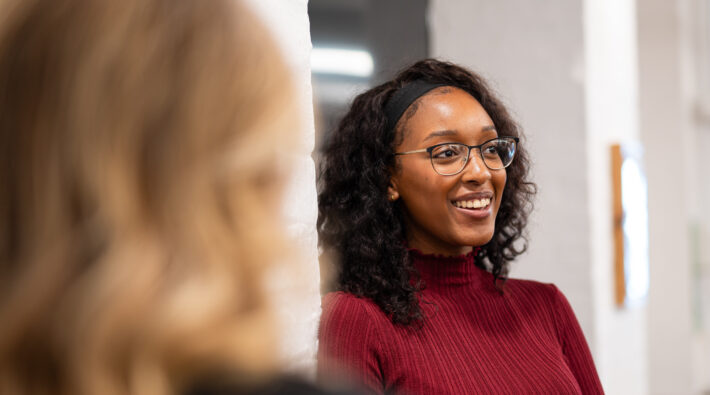 A culture of opportunity
In contrast to traditionally demanding legal environments, our people are given the clients and autonomy to develop their skills and build experience from day one. In a supportive and collaborative environment, alongside a collective sharing of knowledge, and with our focus on passion not profit, Newfields provides a platform for progression and a sense of belonging unlike any other in the industry.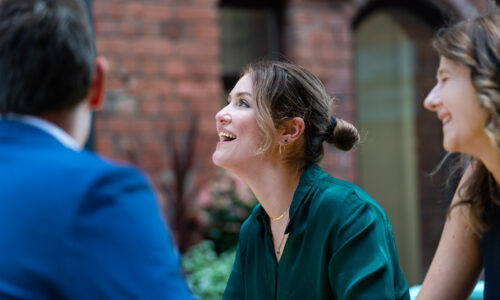 Belong with passion
By opening doors for our colleagues, we ensure our team has the experience and confidence to support our clients, no matter their situation. Understanding that it can be difficult for clients to navigate the immigration process, we are here to remove potential barriers and deliver accessible solutions.
From internships to legal apprenticeships and the freedom to our social mobility pledges and initiatives, and to recruiting former in-house immigration specialists, we believe in creating opportunities for the best talent to shine, no matter how or when they plan to start or develop a career in law.
For more information on our current vacancies, please contact us or find us on Linkedin.
Rugby Football Union
Glyn has been instrumental in advising the England Rugby Football Union as well as many clubs on a wide range of immigration matters, and is always on hand to steer us in the right direction. He and his colleagues always respond promptly, efficiently and often with very little notice, which is essential in the fast-moving environment within which we work.
Eddie Jones
Coach
Newfields did an exceptional job in helping us with our immigration requirements - very professional and personal with a minimum of fuss. I recommend their practice very highly
Rugby Football League
The RFL have worked with Newfields on a wide range of immigration issues and have found that they have an excellent understanding of many immigration matters. Glyn is always available for both the governing body and the clubs to answer the most straightforward or complex query; his attitude and work ethic are outstanding.
Dylan Yarborough
Audiology Partner Recruitment Manager, Specsavers
The guidance, care and exceptional expertise of the team at Newfields has made a huge difference to Specsavers Audiology, and we wouldn't have been able to recruit the numbers we have, without that support. On a personal level, it's been a pleasure to work with the firm.
Welsh Government
European Transition Team
Newfields has been contracted by the Welsh Government to provide EU Settlement Scheme advice to EU citizens resident in Wales since 2019. Through out that contract Newfields Law has supported hundreds of citizens to secure settled status to remain here in Wales and to exercise their rights under the Withdrawal Act Agreement (2020). Since 2019, Newfields has developed close working relations with other Welsh Government grant funded organisations and enabled a network of support to be provided to EU citizens across the breadth of Wales. Newfields has also contributed extensively to the co-ordination and development of EUSS Advice Services in Wales by becoming active members of the Welsh Government chaired EUSS Co-ordination Group, which brings together partners and third sector organisations supporting migrants and EU citizens in Wales. The success of the EU Settlement Scheme in Wales is due to the hard work and passionate approach that has been demonstrated by all partners involved in the delivery of this scheme, including Newfields.
Welsh Government
Social Care Workforce Team
Newfields delivered a Welsh Government contract to provide EU Settlement Scheme advice services in Wales from March 2019 to March 2023; Newfields fully met the contractual requirements agreed. As part of this contract, Newfields also supported the Welsh Government Social Care Workforce team from March 23 to September 23 with two online resources. In addition, Newfields developed a tailored toolkit and provided focussed webinars for social care providers across Wales.
Ben Greenwood
Swansea City FC
Chloe and Glyn have assisted Swansea City FC for a number of years with our immigration needs. They are experts in their field and provide excellent advice and support, with a true understanding of the sector. They are extremely responsive and professional and always ensure to deliver results in a timely and efficient manner. We would not hesitate to recommend Newfields.
Admiral Insurance
With Admiral Insurance being a global brand with offices all over the world we have a lot of visa and immigration queries. We have used Newfields for a number of years now and I have found every interaction with them to be a very positive and helpful experience. The customer service they provide is second to none and I know I can always count on their fantastic service and advice.
Shabbar Dhalla
Founder & Director, Evexia Care Holdings
I have worked with Ellie from Newfields who manages all our matters. She is responsive, transparent, and professional, with a good understanding of the health sector. I have recommended Newfields to a number of my business colleagues and they all love working with the team at Newfields.
Les Duvenage
HR, Payroll & Benefits Manager, PISMO
I have been dealing with Glyn on the Visa front since 2010 and have watched his Newfields company grow into the amazing success story that it is today. A distinct combination of hard work, knowledgeable expertise and an overriding passion to deliver the best results, at very competitive rates, is his winning formula. I cannot recommend his services and those of his company highly enough to anyone needing a Visa. Long may your success story continue!
Belong with confidence
Our values.
A safe pair of hands
We believe in supporting the nuances of each industry and private client which is why you'll find a dedicated team of immigration experts for each sector. As a diverse team, we support clients in various situations to navigate the overwhelming process of immigration. With a wealth of experience hand-holding multiple sectors through the immigration industry, we understand the intricacies of immigration law and the potential challenges that clients may face. We stay up to date with the latest regulatory changes in immigration, and specifically to the sectors we work with, and use this knowledge to provide clients with strategic and supportive advice. By prioritising the best interests of our clients, we have created an environment where clients feel valued, heard and understood. Understanding the unique situation of each client allows us to deliver tailored advice, whilst maximising a successful outcome. Handling every case with the utmost care and professionalism provides clients with confidence that they are in a safe pair of hands.
A human approach
Instead of seeing each case as a problem to solve or a task to complete, we focus on the people and businesses behind each case. Recognising that immigration can leave clients feeling uncertain, we align with your business strategies, provide regular updates, clear explanations and respectful interactions to create a supportive environment for clients. By taking a more human and solutions-based approach, we are able to build long-term relationships with clients. We ensure our clients feel supported throughout their immigration journey and beyond.
A go-getter attitude
Our team has been founded on giving opportunities to those from non-traditional legal backgrounds. Our diverse backgrounds enable them to approach legal challenges with a fresh perspective. Always seeking out opportunities for development, we allow members of the team to follow their passions and choose their specialisms, exploring new ways to approach the market and deliver services. Our go-getter attitude means we're not afraid to take on challenging cases. Our team is built from skilled professionals, who are committed to finding solutions to even the most complex immigration problems. Taking a proactive approach, we work closely with clients to help them achieve their immigration objectives.
A pioneer of industry transformation
We're not just focused on making the lives of our clients and colleagues easier, we're also intent on driving transformation in the practice of immigration law. Working with non-specialist law firms, either as partners or white labelled, is just the start. Our ambition extends to establishing immigration academies, where preaching the benefits of the Newfields approach will prove a genuine game-changer to the industry. Rather than keep what makes Newfields special to ourselves, we have a responsibility to future clients to ensure that industry standards don't stagnate, instead keeping up with us. Holistic thinking, client-centric processes, and the passion and expertise to go the extra mile to find a solution should be the rule not the exception.